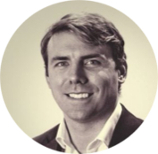 Ryan Radloff
Co-Principal, COINSHARES, CEO, COINSHARES (UK), Director, XBT PROVIDER
Mr. Radloff is Co-Principal at CoinShares, CEO at CoinShares (UK) and a Director at XBT Provider the issuer of the world's first publicly traded Bitcoin and Ether ETPs. As a result, he spends the majority of his time operating at the intersection of professional, traditional investors and the emerging crypto asset class.

Mr. Radloff is Vice Chairman of CryptoUK, a consortium of companies aiming to promote best practices and to work with government and regulators to ensure that the UK benefits from the exciting potential of this international technology.

Prior to CoinShares and Global Advisors, Mr. Radloff served as Managing Director at FiREapps and SageWorks, Inc. two FinTech companies focused on Corporate FX, globally; and Financial Statement Analytics for U.S. Corporations, respectively. He holds a B.A. from Duke University.