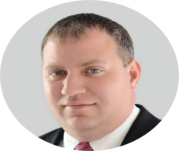 Mike Venuto
CIO, TOROSO INVESTMENTS
Mr. Venuto has almost two decades of experience in asset management. Prior experience includes head of investments at Global X Management, and business development, investment strategy, and strategic initiatives at Horizon Kinetics. At Toroso, he is responsible for investment management, research, and trading.
Mr. Venuto is an ETF industry veteran with over a decade of experience in the design and implementation of ETF-based investment strategies. Most recently, he is behind the launch of the Toroso ETF Industry Index (TETF Index), which measures and monitors the performance of publicly traded companies that derive revenue from the Exchange Traded Funds ecosystem. The Toroso ETF Industry Exposure & Financial Services ETF (TETF) tracks this index. Toroso is the sub-advisor to two active ETFs, focused on advanced battery metal and blockchain. Mr. Venuto is the lead portfolio manager for BATT & BLOK.
Mr. Venuto was instrumental in the establishment of multiple strategic investments and partnerships related to ETFs, Exchanges and Indexation. In 2014, he was chosen as one the ETF.COM All Stars for his research and is often quoted as an ETF expert in publications such as Reuters and Barron's. Mr. Venuto studied Philosophy and Religion at NC State University and is an avid Chess player.