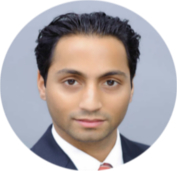 Rahul Sen Sharma
Partner, INDXX, LLC
Rahul joined Indxx in 2011, and leads the firm's client management and business development teams. Prior to joining Indxx, Rahul was the Director of Investment Research for RR Advisory Group (now part of Mariner Wealth Advisors), a full service private wealth management firm based in New York that caters to high net worth individuals, where he performed due diligence on the firm's investment managers and built customized portfolios for client's investable assets.

From 2003-2006, Rahul was based in The Netherlands and served as Manager of Consumer Sales Training for Mexx, a global fashion company with more than €1 billion in sales and 500 retail locations throughout Europe and the Middle East. He began his career in the music industry, having worked at Atlantic Recording Corporation from 2002-2003.

Rahul holds a BS from Boston College and an MBA with Beta Gamma Sigma honors from Georgetown University's McDonough School of Business.